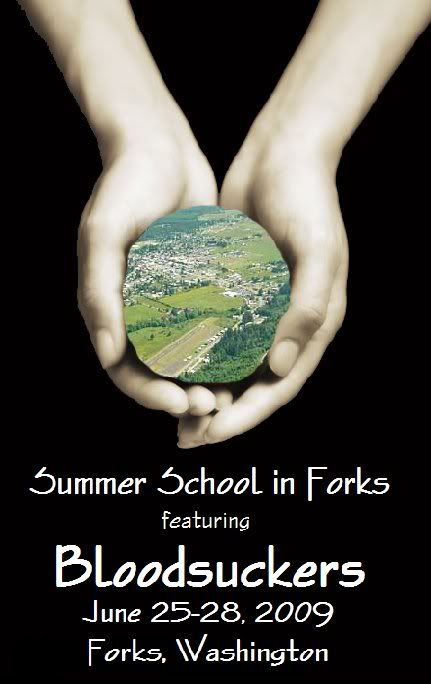 SUMMER SCHOOL IN FORKS: A TWILIGHT SYMPOSIUM ANNOUNCES NEW SPEAKERS
Twilight Guy BBQ, Bloodsuckers, and Letterman Jackets

Kaleb Nation--everyone's favorite Twilight guy--will be delivering a Keynote Address at a special luncheon during Summer School in Forks. Convention attendees will be able to purchase tickets for this barbecue luncheon during registration. Seating is limited.

SSIF is also proud to announce that The Bloodsuckers, aka The Girls Necks Door, will be presenting a live podcast from Forks High School during the convention. Attendance and participation is included in convention registration.

Everyone needs a jacket in Forks! Now attendees of SSIF will be able to order their very own, individualized, personalized FORKS HIGH SCHOOL LETTERMAN JACKETS. The official vendor to the school will be available to take your measurements and help you accessorize your jacket with specially selected Twilight-themed patches and lettering. Show your Twilight school spirit! And if you order during our convention, you will receive a special 10% discount offered only during SSIF.